Volume 5, Number 11 August 2015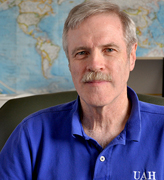 It was the hottest of months, but then again, maybe it wasn't. It can depend, sometimes, on how you look at it.
This month we note the 90th anniversary of September 1925, when Alabama recorded its all-time highest temperature, 112° in Centreville on Sept. 5, 1925. That record, at least, is uncontested. On that day, every official reporting station in Alabama had a high temperature ABOVE 100°, a feat that has never been repeated. On that day it hit 103° in Decatur, 106° in Muscle Shoals, Montgomery and Birmingham, and 107° in Huntsville.
For most of those cities, that was part of a string of 100+ days. It topped 100° for seven days in a row in Birmingham, Muscle Shoals, Decatur and Huntsville, but only six in a row in Montgomery.
But was that September the hottest month on record?
That depends on how you measure it.
With an average temperature of 83.1°, September 1925 was easily the hottest September in the state climate record, which began in 1895. The second hottest September was in 1921, with an average temp of 80.9°. The average temperature for an average September is 76.5°, so September 1925 was six and a half degrees hotter than normal.
While that was much warmer than normal, the truth is that the big temperature swings don't come during the hot months. May through September temperatures are actually relatively stable. The big swings come in the winter months, with temperatures can vary from short sleeve warm to arctic. The biggest single swing on the warm side was in January 1950, when the statewide average temperature was a fairly toasty 60.3°. That's a full 14.7° warmer than the normal average of 45.6°. But no one is going to argue that January 1950 was the warmest month on record!
That "honor" belongs to August 2007, when the statewide average was an uncomfortable 84.4°, a full degree warmer than the two months tied for second: July 1930 and August 1954. In this list, the hottest September, with the hottest one-day temperature on record, only ties for fourth place as the hottest month on record.
Statewide, our cities sample from August 2015 shows temperatures averaging about one degree cooler than normal, with more rain than normal in the northern part of the state and less than normal in the south: Greensboro and Montgomery both got less than 2" of rain for the month.