Volume 4, Number 12, September 2014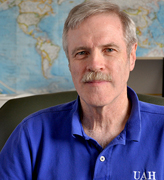 Fall is usually a dry season over most of Alabama, which isn't necessarily a bad thing. Farmers and gardeners need drier weather for their harvest of corn, cotton, squash and so forth.
But September kicked off the fall with an especially dry month. In our 25 city sample, rainfall during the month was just over half of normal (2.13" average compared to the 4.15" norm). That put most of the state in some level of drought or abnormal dryness.
While the drought seemed to get worse as you go north, Montgomery had its driest September on record. The capital saw only 0.62" of rain for the month, breaking the 0.81" record set in September 1984.
Huntsville got only 0.49", which was 0.01" more than record set in September 1998. Gainesville Lock & Dam reported only 0.52", while Gadsden saw 0.63" and Decatur 0.65" in September.
While it is often difficult to say exactly why conditions like we saw in September happen, it is worth noting that we are in the midst of another calm hurricane season. The record-setting major hurricane "drought" in the U.S. continues. The last Category 3 or stronger hurricane to hit the continental U.S. was Hurricane Wilma in October 2005. That almost nine-year gap is the longest period in the record book between major hurricanes.
So far this year there have been only five named storms, which is three below normal.
While we don't miss major hurricanes with the destruction they cause, lesser tropical systems can be an important source of rainfall across much of the southeastern U.S., even if they never make landfall here.
The hurricane season continues through the end of November, so we still have time for some unnamed tropical depression to drive a few inches of rain across the state and help us lift this drought.
It is also a reminder that the hurricane season does continue through November, so this is a good time to make sure you are weather prepared. The longer the hurricane drought continues, the better are the odds that it is going to break. When that happens, it's good to be ready.
- John Christy