Volume 5, Number 12 September 2015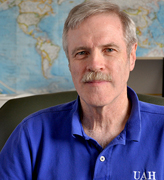 Well, Joaquin isn't going to break the streak. While this is being written, Joaquin is a category 4 hurricane in the Atlantic but -- after taking a right-hand turn -- it has almost no chance of coming ashore along the U.S. East Coast.
If Joaquin had come ashore as a category 3 or stronger hurricane, it would have broken our almost ten-year streak without a major hurricane hitting the U.S. The last major hurricane to hit the continental U.S. was also the most intense tropical cyclone ever recorded in the Atlantic basin: Hurricane Wilma in October 2005. The tenth anniversary of Wilma arriving in south Florida will be Oct. 24.
The previous record, according to a NASA study completed last year, was a seven-year gap from 1861 to 1868.
And, while we are talking about anniversaries, we should recall that Oct. 4 was the 20th anniversary of Hurricane Opal coming ashore as a category 3 hurricane along the Florida panhandle with 115-mph winds. After causing significant damage along the coast with a 15-foot storm surge, Opal traversed the entire state of Alabama as a hurricane.
A fast-moving storm, Opal was still a weak hurricane when it hit north Alabama nearly 12 hours after coming ashore. Fort Payne and Valley Head have little experience with hurricanes. Opal was downgraded to a tropical storm as it crossed over into Tennessee.
Opal and its tropical warm, wet air flow the day before landfall contributed significantly to the wettest October in Alabama's 100+ year climate record. Statewide, the average rainfall for October 1995 was 9.30 inches. The October norm is 2.9 inches.
Some parts of the state saw tremendous amounts of rain. The Birmingham
weather office recorded almost seven inches of rain on Oct. 3 and another three inches the following day. Clanton, Fort Payne, Valley Head, Selma, Sylacauga and Walnut Hill each received more than six inches of rain.
The storm caused more than $100 million in damages across the state and left more than 2.5 million people without electricity. All of this earned Hurricane Opal a spot on the Birmingham NWS Weather Forecast Office's "Top 10" weather events of the 20th century.
The storm system that moved across south Alabama in late September isn't likely to make the 21st century's top 10 list (we should get so lucky), but it was wet and caused some notable flooding. The solitary CoCoRAHS volunteer in Houston County reported 12.35 inches of rain for the month, while volunteers in Mobile reported between 5.76 and 8.59 inches of rain over a five-day period. Gulf Shores reported as much as 7.54 inches, and Foley 6.02 inches.
While we wait to see what the rest of October has in store, we will keep our eyes on Joaquin, and remember that it isn't too late in the year for hurricanes and tropical systems to disturb our weather.
- John Christy