Volume 6, Number 1 October 2015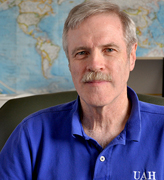 It looked like October was going to be one of our drier months, until the Storm Formerly Known as Patricia came along.
Through the first 23 days of October, for instance, Muscle Shoals had six days with measurable rain, worth a grand total of 0.44 inches. Dothan had five rainy days during that span, with total precipitation of 0.09 inches.
But Mobile was the site most on track for a near-record October. Through the first 24 days of October, Mobile had a trace of rain. Twice. (Two traces is still only a trace.)
Then along came Patricia. In two great swaths of storminess, the low pressure system that a few days earlier had been the "most powerful hurricane ever recorded," pulled moist air in from the Atlantic and the Gulf of Mexico, splashing rain across large portions of the U.S., including Alabama.
That included some pretty serious storminess along the gulf coast, with high winds, rough surf (which damaged the pier at Gulf State Park) and strong rain. Mobile got 6.69 inches of rain in a week, including 4.81 inches on Oct. 26.
While there was some heavy rain over most of the state, it didn't save some spots from having a drier than usual October. Muscle Shoals finished with 2.58 inches for the month, which was better than Birmingham's 2.39 inches. Dothan finished the month with a total of 2.03 inches of rain, most of it within the last week of October.
Of course, we shouldn't be surprised at these late season tropical visitors. This month is the 30th anniversary of hurricane Kate coming ashore in Alabama (Nov. 21-22). In addition to dropping several buckets of rain across the state, it also moved quite a bit of warm tropical air into the region. This contributed to Alabama seeing its warmest November on record. November 1985 had an average temperature of 61.3° Fahrenheit, compared to the November norm of 53.6°.
- John Christy