Volume 5, Number 10 July 2015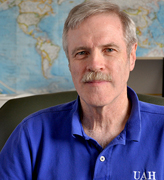 This summer seems to be returning us to normal after a couple of cooler than normal summers. July averaged about 1.2 degrees warmer than normal, according to our cities sample, but it was far from consistent.
Huntsville was almost four degrees warmer than normal for the month, while Scottsboro was cooler. Montgomery was almost three degrees warmer than normal and Tuscaloosa was more than two degrees warmer than normal, while Selma, Thomasville and Greensboro were all cooler. And Greensville (which has an 88-year climate record) saw its coldest July temperature on record, with a 55 that broke the record set in July 2009.
Go figure.
Much of the talk around this office for the past few days has been about the forecast that a "Godzilla" El Niño Pacific Ocean warming event is building in the equatorial Pacific stretching westward from South America.
If it is as powerful as the 1997-'98 "El Niño of the Century," it will alter weather patterns around the globe. The 1997-'98 El Niño caused more than 2,100 deaths worldwide, brought flooding to Peru and eastern Europe, heavier than normal rain to the Gulf Coast region, California and west Africa, and drought to Australia. Global average temperatures hit record highs that have not been equaled since in the bulk atmosphere, as measured by satellites and balloons.
Since global temperatures have been generally warmer than historic norms for the past 18 years, it will be interesting to see whether this new El Niño breaks those records.
I'm not entirely sure of the Godzilla part, however, since we all know Godzilla only bothers Tokyo and New York.
- John Christy