Volume 5, Number 6 April 2015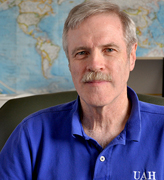 Alabama helped set some weather history in March: For the first time since the National Weather Service started counting tornadoes in 1950, there were no tornadoes in March in Alabama, Georgia, Florida, South Carolina, North Carolina and Virginia together.

In this region, one state getting through March without a tornado is uncommon. In the past 25 years, Alabama has gone through March without a tornado only four times: 2014, 1998, 1997 and 1993.

There is a weather pattern that makes tornadoes more likely, and another that seems to make them less likely. Warm temperatures in the west and cool in the east are opposite of what generally generates tornadoes. Generally.

While temperatures in the west were significantly warmer than normal in March, Alabama saw two periods of record setting cold and snow. But the cold didn't linger. While there were a substantial number of daily low temperature records set across the state during those cold spells, both Mobile and Dauphin Island saw their warmest March temperatures on record. (The overall month was slightly warmer than normal, according to our sample of Alabama cities.)

So the warm west, cool east pattern isn't perfect. But ... A small sample of central California stations shows temperatures there were more than eight degrees warmer than normal in March. And they were warmer than normal each of the five Marches that Alabama didn't produce a tornado.

But, warm temperatures in central California don't turn out to be an accurate predictor of dangerous weather in Alabama: Temperatures there were also warmer than normal in March 1993, when Alabama (with temperatures that averaged more than three degrees cooler than normal) produced its highest March tornado count (20) during the past 25 years, as well as the "Storm of the Century" that produced blizzard conditions across the state.
- John Christy