Volume 4, Number 2, November 2013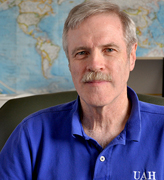 Dick McNider, a former Alabama state climatologist and the founding father of the atmospheric science program at UAH, remembers the Dec. 31, 1963 - Jan. 1, 1964, snow storm as the year frozen tundra came to the Sugar Bowl.
A student at Flomaton (Ala.) High School that year, McNider and his family got tickets to that year's Sugar Bowl between the University of Alabama and the Ole Miss Rebels.
New Year's Eve was cold and the sky was grey. Afternoon flurries gave way to heavier snow, which was not a common thing on the Alabama-Florida state line just north of Pensacola, Fla.
"I think I had seen snow one other time, but that's the only snow I remember," McNider said.
By morning, two or three inches of snow covered the ground in Flomaton, McNider said. "The bigger snow was to the west. We saw on television where New Orleans had maybe eight to ten inches of snow, and around Biloxi they had close to a foot.
"So we started our trip and the roads were OK, because that far south the ground was just not very cold so the snow melted away pretty quickly," he said. "I remember ... there was a pickup truck parked where we stopped for gas in Biloxi, and the bed of the pickup was almost completely filled up with snow. And when you looked at the beaches around Biloxi, it looked like white sandy beaches because the snow went all the way to the water.
"I used to watch professional football on television, and they had like Green Bay and even the New York Giants, and they would have snow piled up on the sidelines," McNider recalled. "To me, that was something I had never seen in person. But when we got to the old Sugar Bowl, which was in Tulane Stadium, they had cleaned the field off but they had piles of snow along the sidelines.
"To me, it was sort of exotic, like seeing something in New York, Minnesota or something like that."
That snowstorm and watching hurricanes churning in the Gulf of Mexico helped to fuel McNider's interest in weather, which he has pursued as a career.
(For those who are interested, Alabama beat the Rebels that day 12-9, despite starting quarterback Joe Namath having been suspended from the team by Coach Bear Bryant.)
We are gathering stories and accounts of that snowstorm to publish in the December 2013 - January 2013 Alabama Climate Report. If you have photographs, memories or newspaper stories from that storm, please forward electronic material by return email to alabama.climate@nsstc.uah.edu. Send hard copies (which will be returned to you) to:
John Christy
Earth System Science Center
Cramer Research Hall
The University of Alabama in Huntsville
Huntsville, AL 35899
There are no guarantees of snow, but winter seems to be a bit ahead of schedule this year. Huntsville was 4.7° F cooler than normal in November, with Decatur right behind at 4.6° cooler than normal. The state was also generally drier than usual.
| | | |
| --- | --- | --- |
| November 2013: City | Temperature deviation | Rainfall deviation |
| Huntsville | -4.7° | -1.86" |
| Decatur | -4.6° | -1.69" |
| Birmingham | -3.9° | -0.73" |
| Muscle Shoals | -3.5° | -1.37" |
| Tuscaloosa | -3.1° | -2.36" |
| Anniston | -2.8° | -1.89" |
| Mobile | -2.7° | -1.70" |
| Dothan | -2.1° | -1.75" |
| Montgomery | -1.6° | -2.29" |
| Troy | -0.9° | -2.49" |
| | | |
If you thought the Thanksgiving weekend was a bit chilly, you were right. Essentially the entire state (with the exception of Dauphin Island) had a hard freeze over the holiday weekend. Temperatures dropped as low as 14° in Russellville, 15° in Valley Head, 16° in Crossville, Cullman and Scottsboro, 17° in Huntsville and Decatur, and 19° in Muscle Shoals, Anniston and Gadsden.

- John Christy