Volume 5, Number 7 April 2015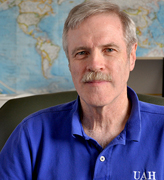 Did April seem ... damp to you?
That's probably because for most of the state it was often damp. Not only did we see more rain than normal for most of the state, but we saw rain more often than normal.
Several stations across the state reported at least 18 days in April (a short month) in which at least a trace of rain was recorded. Anniston led the way with 21 days with rain.
April
Station       rain days
Anniston    21
Auburn       14*
B'ham         18
Decatur      19
Dothan       15
Gadsden    16
Huntsville   18
Mobile        15
M'gomery   15
Muscle Sh.  18
Shelby Co. 18
Troy           19
Tuscaloosa 19
*Auburn's rain data is missing for two days.
The ACR sample of 25 stations with both current and historical data showed the average rainfall in April was 7.12", well above the normal of 4.79".
Birmingham got 10.24" of rain for the month, while Fairhope recorded 10.32". Mobile got a non-record 13.9" and saw its wettest April day on record on April 12, when 7.28" of rain fell.
What is especially remarkable about this excess of rain is that none of it was the result of a tropical depression, tropical storm or hurricane. In October we will hit the tenth anniversary of hurricane Wilma, which was the last major hurricane (Category 3 or greater) to hit the U.S. This is already the longest major hurricane drought on record for the U.S. With the official hurricane season starting June 1, folks living near the coast might want to check that they are well prepared for the next big one.
- John Christy