Volume 5, Number 5, February/March 2015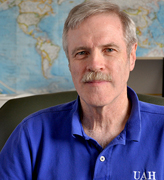 The tardy timing of this month's report is proof that even the state climatologist and his staff aren't immune to the whims and limitations of the weather. And three significant winter weather events in a three week span — in Alabama — are enough to upset any schedule.
So, at the tag end of what had been a relatively normal Alabama winter, we get three events that bring north Alabama the trifecta of winter weather: snow, sleet and freezing rain back-to-back-to-back. It might not be unprecedented, but none of the lifetime locals on staff can recall so many frozen precipitation events over such a short span of time.
Some stations saw their heaviest total snowfall for a February, with unofficial reports of more than a foot of snow in Blount County and on Sand Mountain. Other official tallies for the month included:
Valley Head, 9.5 inches
Decatur, 9.0 inches
Huntsville, 8.8 inches
Muscle Shoals, 3.5 inches
Birmingham, 0.7 inches
And even places that didn't see snow or ice saw temperatures that were significantly cooler than usual in February:
Decatur, -9.6°
Muscle Shoals, -8.9°
Huntsville, -8.4°
Birmingham, -8.3°
Anniston, -7.1°
Tuscaloosa, -6.8°
Calera, -6.7°
Mobile, -6.4°
Montgomery, -5.8°
Dothan, -5.5°
Troy, -4.5°
And while we are finally warming into March, this is a reminder that we should be especially weather prepared and weather aware during this time of the year. Strong storms and violent weather are especially common during the spring, so we should all make the appropriate preparations.
- John Christy